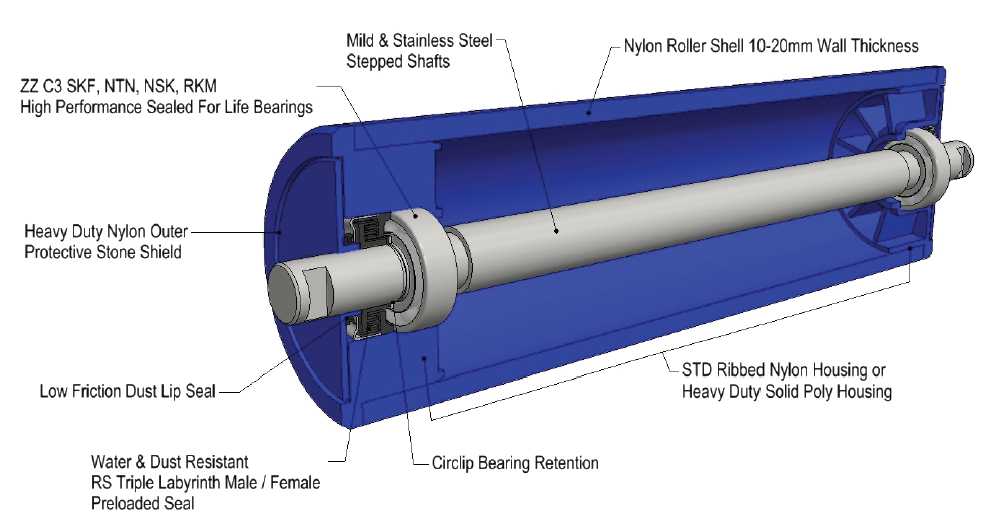 RKM heavy duty nylon roller is another anti-corrosive, lightweight and low noise option in our portfolio to further serve our customers' needs.
Specification:
Tube: High grade nylon with excellent flexural strength, impact strength, wear and abrasion resistance.
Shaft: Mild steel cold drawn shafts or stainless steel.
Bearing Housing: Solid TPU housings or Nylon ribbed housings.
Bearings: ZZ C3 Deep groove ball bearings.
Seals: Similar to RKM RS seals package but with outer protective shield replaced with a heavy duty nylon outer protective stone shield.
Features:
Up to 50% lighter than steel rollers, which means lower power requirement for start/stop operation of conveyor and reduces potential injuries during installation and manual handling.
Less material buildup on roller as compared to steel rollers.
Belt friendly as damaged roller would not damage the belt.
Anti-static and non magnetic.
Roller tubes machined to fit meet TIR and MIS requirements.
Roller is dynamically balance to ISOISO1940 – G16 grade or 0.014Nm, whichever is more stringent.